---
Centenary Methodist Church
309 East Spring Street
New Albany, IN 47150
---
---
Listing Description:
Centenary Methodist was established in 1839, and was named in honor of the centennial of the beginning of Methodism in London, England. Prior to its establishment, New Albany's Methodists had worshipped at Wesley Chapel Church, at the corner of Market and Lower First streets. The original Centenary building - completed in 1841 - was "a simple rectangular structure of two stories, and was quite an advance of the architecture of the times, being by far the best public edifice in the city. The lower story was eight feet high, and was divided into Sunday School rooms and lecture hall, with the speaker's stand on the west side. The upper story, with a gallery across the south side, was reached by wooden stairways on the outside of the building, unprotected from rain, snow, sleet or sun."

The building has seen numerous modifications through the years, including the loss of the steeple following a lightning strike in 1900. New windows were also added at that time, as the originals had been destroyed by hail in the same storm. The former parsonage to the west of the church was constructed in 1935, replacing an earlier structure. It is seen below in a photo taken during the 1937 flood.

Work began in 2020 to convert the church and its education annex into a new use as housing.
---
Driving Directions:
---
Additional Information:
Building Style:
Greek Revival
Year Built:
1839
---
Photo Gallery: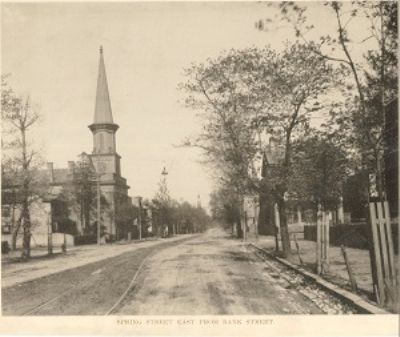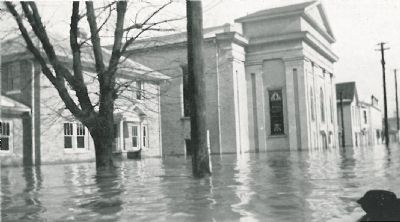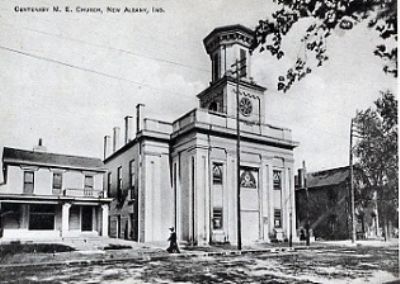 ---
Click a Photo Above for a Larger Version