---
Dowd-McBarron House
1007 East Market Street
New Albany, IN 47150
---
---
Listing Description:
Thomas Dowd, Jr. was first listed at this address in the 1884-85 edition of the New Albany City Directory, and it is likely that the house was built soon before. Dowd was an employee of Washington C. DePauw's American Plate Glass Company, which at the time was the largest plate glass manufacturer in the nation. It appears that the Dowd family lived here through 1894.

This home was purchased by the McBarron family in December 1905 for $1,500. Rosa McBarron had lost her husband in August 1901. Her daughter, Mary A., purchased the property, and it was transferred to her other daughter, Katherine, in October 1906. Numerous family members joined Katherine in residing in the house, including sons, Cornelius and Andrew.

After Rosa's death in March 1912, the house continued to be occupied on and off by her adult children including Katherine. In the early 1920s, Mary and her husband Thomas O'Malley moved into the home. Mr. O'Malley was a native of County Galway, Ireland, but moved to Louisville as a young man and relocated to New Albany after his marriage to Mary in 1906. Thomas had been retired from the insurance business for five years when he passed in June 1930 at 74 years of age. The sisters remained in the house until their deaths; Mary in February 1946 and Katherine, a former secretary for the Louisville & Nashville Railroad, at age 82 in November 1946. All were members of Holy Trinity Catholic Church, located just three blocks down Market Street at East 7th.

The photo below shows the home in 1971, before the addition of vinyl siding and the alterations to the porch.

After years and neglect, and a foreclosure, the current owners purchased the house in March 2015 and have undertaken a complete rehabilitation.

---
Driving Directions:
---
Additional Information:
Building Style:
shotgun
Year Built:
c.1885
---
Photo Gallery: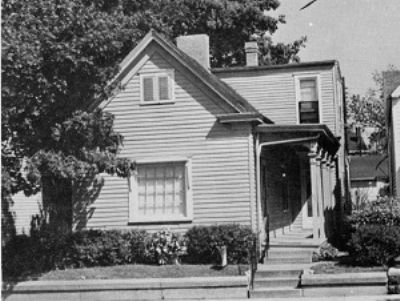 ---
Click a Photo Above for a Larger Version