---
Frank A. Kraft Building
152-154 East Main Street
New Albany, IN 47150
---
---
Listing Description:
The frame buildings at 152-154 East Main Street are likely the oldest frame commercial structures remaining in New Albany. The lots were purchased by Ansel Abbey in 1827, and the buildings were constructed in 1834 - three years following Ansel's death - for his widow, Bersheba Abbey. One of the ealiest tenants was likely the boot and shoe dealer and manufacturing firm of Young & Stewart. It appears that Kraft and Zilker furniture and cabinet manufacturers, established in 1856, had located here by later that same year. The business was the forerunner of Kraft Funeral Services, still in business today in downtown New Albany.

The Carter Management Company purchased the building in June 2014; the photo below shows the condition of this, and the adjacent building at 156 E. Main, shortly beforehand. They had the city condemn the rear of the buildings, which had already collapsed, so they could remove this portion and start reconstruction immediately. A complete rehabilitation of the buildings was undertaken, which included two commercial spaces at street level and three upscale apartments on the second floor, as well as additional retail space in the basement as part of the 'Underground Station' complex. The Carter family received a 2015 'Facelift Award' from the New Albany Historic Preservation Commission in recognition of their outstanding work in preserving and reusing this significant and extremely endangered part of New Albany's history, and also received a regional preservation award from Indiana Landmarks for the work.


---
Driving Directions:
---
Additional Information:
Building Style:
vernacular
Year Built:
1834
---
Photo Gallery: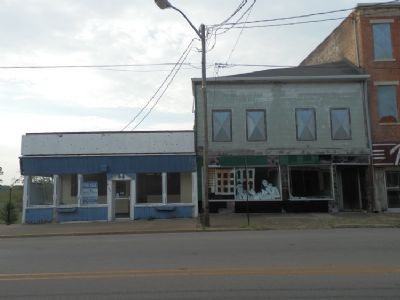 ---
Click a Photo Above for a Larger Version