---
Paul and Mary Day Moosmiller House
820 East Market Street
New Albany, IN 47150
---
---
Listing Description:
This stately brick home was constructed sometime between 1852 and 1855 by John B. Crawford, then sold to New Albany businessman Adam Knapp in 1855. Knapp was a partner in Knapp & Gohmann, dealers in wholesale groceries, liquors and tobacco and located on Pearl Street. By March 1863, Merchants National Bank president Jacob Hangary was the owner.

After Captain Hangary's death in January 1880, his son and daughter-in-law, Mary A. and John Day, purchased the home in April of that year. Col. Day was involved in the local railroads from an early age, and eventually rose to become superintendent of the Monon's freight office.

Upon Col. Day's death in July 1893, his widow remained in the home and was joined by her daughter and son-in-law, Mary and Paul E. Moosmiller. Mr. Moosmiller was an architect, whose name is attributed to the 'People's College' on East Spring Street that served as New Albany High School from 1905 to 1927. He was also involved with the design of the New Albany Carnegie Library and the Seelbach Hotel in Louisville, particularly the Rathskeller there.

Around 1901, Moosmiller drew the plans for the separation of the house into two individual structures, with the second facing East Ninth Street (now 221 E. Ninth). At this same time, the west addition and east bump-out, which included a new staircase, were also added. A full width front porch - seen in the c.1970 photo below from the collection of the Indiana Room at the Floyd County Library - was also added around that same time.

Sam and Paula Robinson purchased the house from the Moosmiller heirs in the late 1970s and undertook an extensive rehabilitation. The house has served as the headquarters of the Arts Council of Southern Indiana since 2005.
---
Driving Directions:
---
Additional Information:
Building Style:
Greek Revival
Year Built:
c.1853
---
Photo Gallery: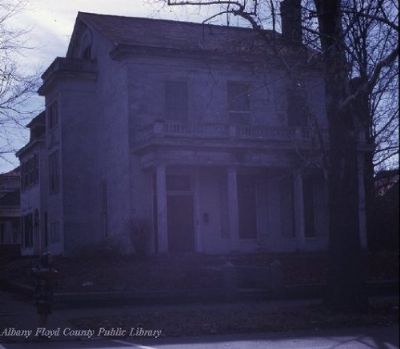 ---
Click a Photo Above for a Larger Version