---
Dr. Johnathon Bischoff Office and Residence
207-209 East Market Street
New Albany, IN 47150
---
---
Listing Description:
The buildings at 207 and 209 East Market were built as one house by Hezekiah and Mariah Beeler in 1858 and sold to physician Johnathon Bischoff and his wife Amalia for $1,500.00 in December of that same year. The Bischoffs used the structure as their residence, and it also housed Dr. Bischoff's medical office.

The Bischoffs resided here only a short period of time before selling the property to John and Mary Koellner in June 1862. Like the Bischoffs, the Koellners lived here while John ran his music lessons studio from the structure. At the time of Mr. Koellner's death in January 1871, his widow was also operating a confectionery from the building.

By December 1873, the Koellner estate sold the property to Joseph Kreuzer and Peter Stein. Mr. Stein relocated his retail boots and shoes business from State Street to this site, where it evolved into the ever-popular Stein's Shoe Store. The business, established in 1867, remained an anchor in downtown New Albany for almost 120 years. The photo below – taken in 1893, during Stein's ownership – shows the original appearance of the building, which is seen with a gable roof just to the right of the Oddfellows Building.

In June 1877, Mr. Kreuzer sold his interest in the west 15 feet of the west half of Lot 16, now known as 207 East Market. Mr. Stein continued his business here through the turn of the twentieth century, when he moved the store to 308 Pearl Street. The Steins continued ownership of the building until July 1919, when Delana Elliott and his wife Carrie purchased the structure. Mr. Elliott was the proprietor of Delana R. Elliott, watchmakers. He died at a young age and Carrie married Henry Cref in December 1923. Their business was the Cref's Jewelery & Novelty Company.

After several different owners and numerous tenants, the building at 207 East Market was sold to Charles Vernia in June 1946. Mr. Vernia had his real estate and insurance company here through 1986. After several other tenants over the course of seventeen years, the Vernia family sold the property to the current owners in February 2002.

---
Driving Directions:
---
Additional Information:
---
Photo Gallery: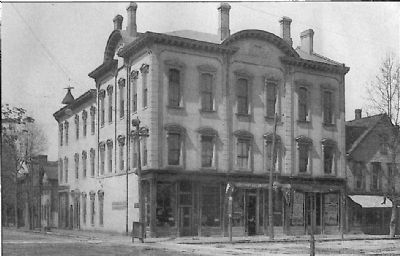 ---
Click a Photo Above for a Larger Version