---
William Gamble Building
110-112 East Market Street
New Albany, IN 47150
---
---
Listing Description:
This c.1859 building was constructed as one building but finished as two individual units. The first known occupant of 110 East Market Street was Nicholas Sauer, who had a coffee house and later a saloon here, and lived above. The Capital Saloon first occupied 112 East Market and was operated by Frederick Borgerding, who lived upstairs.

The Gamble heirs sold the building in July 1888 - 110 East Market went to druggist and tenant Charles Knoefel, and 112 went to tenant and grocer Frederick Knabke. In 1921, the two separate storefronts were combined when the entire first floor became Mayes Drug Company. It remained that until 1935.

By 1937, the Jay C Food Store occupied the building, and was here through 1956. After a few years of vacancy, the Thrift Dollar Store moved into the site by 1959, and is visible at the right of the c.1960 view below. That business was followed by Ace Loan and Sporting Goods, which closed in 2015.

The building was then rehabilitated by local developer Steve Resch, earming a 2019 'Facelift Award' from the New Albany Historic Preservation Commission.
---
Driving Directions:
---
Additional Information:
Building Style:
Italianate
Year Built:
c.1859
---
Photo Gallery: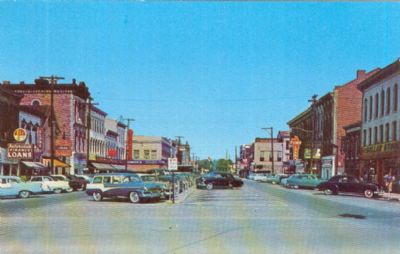 ---
Click a Photo Above for a Larger Version