---
White House Department Store
222 Pearl Street
New Albany, IN 47150
---
---
Listing Description:
Greenbury C. Cannon, Esq. built this three-story building with a cast-iron storefront in 1866, to house his wholesale fancy goods and notions business. By 1880, Joseph Kraft was dealing in the dry goods business here. In 1893, Kraft sold his business to S. W. Newburger, who began the White House Department Store.

The White House was a mainstay in downtown New Albany for almost a century. The store contained four floors of first-class merchandise, including the Bargain Basement.

In 1902, a devasting fire engulfed the building. It was rebuilt with the facade taking on the Chicago Commercial style popular at the time. In 1961, it was remodeled again, with a more contemporary design. The photo below, from the collection of the Indiana Room at the New Albany-Floyd County Public Library, shows the buliding sometime around 1970. The store remained the hub of downtown retail until its closure in December 1977. Develop New Albany and the City of New Albany then worked together to save the building from demolition and remodeled it into a small-business incubator.
---
Driving Directions:
---
Additional Information:
---
Photo Gallery: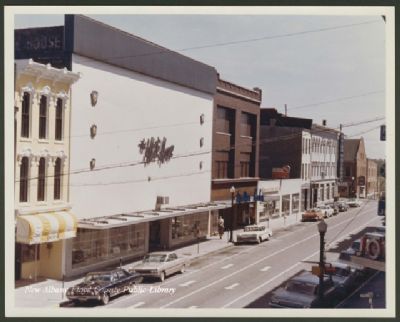 ---
Click a Photo Above for a Larger Version