---
Brooks-Bradley House
815 East Market Street
New Albany, IN 47150
---
---
Listing Description:
In 1854-55, James Brooks, Esq. purchased the entire half-block of real estate bounded by Spring, East Ninth and Market streets and the alley for $5000, and had his magnificent home built soon after. Several of the original outbuildings are still in existence today, including the servants' washhouse (behind 317 E. 9th) and the carriage house (behind 323 E. 9th). Mr. Brooks was founder and first president of the New Albany-Salem Railroad, later known as the Monon, The Hoosier Line.

Merchant/banker/industrialist Lawrence Bradley purchased the property from the bank for about $12,000 after Mr. Brooks lost his estate in 1863. During the 1870s, the Bradleys made several improvements to the residence including erecting an ornamental iron fence around the grounds. In 1901, Mr. Bradley lost the property to the bank, which began selling off parcels of the estate and demolished the north and northwest wings of the mansion. This led to the development of the west side of the 300 block of East Ninth Street.

In subsequent years the building was home to the Hassenmiller and Kenney families, served as the Knights of Columbus Hall, the Plumbers and Steamfitters Union Hall, the pediatrician office of Dr. Patrick Hess, and later, his art gallery. The building has recently undergone an extensive rehabilitation and now serves as the offices of several attorneys.
---
Driving Directions:
---
Additional Information:
Building Style:
Italianate
Year Built:
1857
---
Photo Gallery: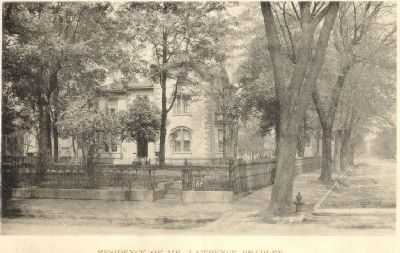 ---
Click a Photo Above for a Larger Version