---
ONeill-Brown House
210 Bank Street
New Albany, IN 47150
---
---
Listing Description:
This property was purchased from the First National Bank in May 1902 by Elizabeth Meyer for $337.50. The rear brick portion of the structure was originally used as the bank cashiers living quarters for the Indiana State Bank. In February 1903, Andrew and Lucinda O'Neill purchased the property for $375.00 and appears to have had the Queen Anne cottage built immediately adjoining the original brick structure. Mr. O'Neill was a carrier for the US Post Office. The photo below shows the property circa 1898, before the construction of the front portion of the house, and shortly after a major fire at the adjacent First Presbyterian Church.

By the mid-teens, Harry K. Smith, a foreman with the New Albany Ledger, was occupying the house, but did not purchase it until the early 1920s. In April 1924, Mrs. Alta Veit bought the home and would remain until shortly before her death in February 1937. Alta was the widow of William and mother to twin sons, William Charles and cigar manufacturer, Charles William who also lived in the home.

The Veits lost their house to sheriff's sale in August 1936 and the structure then saw numerous occupants until Elbert and Sylvia Brown took up residency in the home around 1950. Although the Browns did not purchase the property until January 1959, they would remain in the house until the death of Mrs. Brown in March 2012. Mr. Brown, or "Brownie" as he was known, was employed at the New Albany Box & Basket Factory located on East 18th Street in the east end of New Albany.



---
Driving Directions:
---
Additional Information:
Building Style:
Queen Anne
Year Built:
1903
---
Photo Gallery: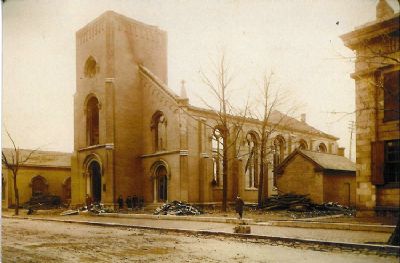 ---
Click a Photo Above for a Larger Version