---
Jacob Bader Building
209 East Main Street
New Albany, IN 47150
---
---
Listing Description:
Jacob Bader, prominent New Albany businessman, had this three-story brick business house built in 1885. To quote the New Albany Ledger of August 14, 1885, " …not only a beautiful first-class building, but a decided ornament to that part of the city. There are two large and fine business rooms on the first floor, both rented before they were finished. The second floor is arranged for residents or offices and the third floor is suitable for balls or other purposes. The building is a monument to the enterprising Mr. Bader, and will be a great help to the businesses in that part of the city." Mr. Bader died less than a year after construction was completed, but the building remained in the Bader family for 60 years. The photo below shows the building soon after its construction, around 1892.

The Jacob Bader Building, along with its third floor Society Hall, was financed by the 1st National Bank located next door. Mr. Wm. S. Culbertson was the bank's president at the time. When the new building opened, Misses Anna and Fannie Bader had their millinery shop in 207 and Reinhard Dietz's cigar manufacturing and tobacco shop was located in 209.
The millinery shop remained until about 1916. By 1917, the J. J. Krebsbach Restaurant was located here, followed by Millie Fletcher's bakery around 1920. The mid 1920s saw the Rupp Furniture Repair and later Frank Mazey's auto repair occupying 207.

Around the turn of the century, the Annie M. Leslie Grocery was located in 209 and followed by the Fannie Bader Grocery in 1907.
In the late teens, Gustav Kiel & Son, wholesale cigar and tobacco brokers, were occupying the storefront and remained through the mid 1920s.

In the mid 1930s and to about 1940 the two storefront were used for one business, that being the Rowe Supply Co., dealers in wholesale groceries.

By the early 1940s, the ever-popular The Candyland confectionary shop, run by John H. McCauley, was occupying the building and remained through the mid 1940s. John's son, Raymond, learned the art of confectionary from his father and by 1946 Raymond, along with his wife Margie, had opened their own candy shop known as Mc's Candy Plant located at 609 Albany St. in New Albany. Mc's remained a New Albany fixture, manufacturing high-quality candies for over 50 years.

Richard and Oneida Kahler began operating the Maytag Laundry around 1949 in storefront 209. In July of 1953, they purchased the building and the laundry was expanded to 207.

Local business entrepreneurs, Carl Holliday and Steve Goodman purchased the business and property in 1999 and continued the long tradition of offering fist-rate laundry and dry cleaning service to hundreds of New Albanians through 2006.

---
Driving Directions:
---
Additional Information:
Building Style:
Italianate
Year Built:
1885
---
Photo Gallery: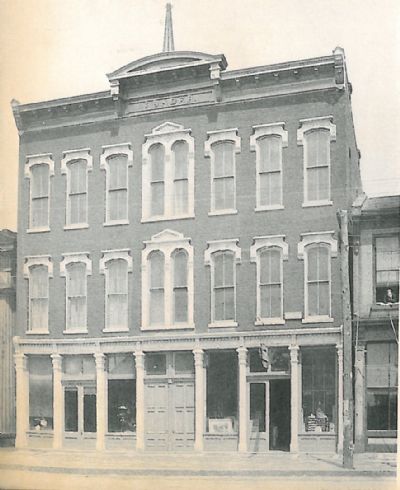 ---
Click a Photo Above for a Larger Version