---
Switow Building
314 Pearl Street
New Albany, IN 47150
---
---
Listing Description:
Built in 1914 on the former site of the Crystal Theater - owned and operated by the Switow family - this building has seen numerous owners and a variety of businesses since. This new building was constructed for Louis Stein, proprietor of the popular Stein's Shoe Store. The business, founded in 1867, remained a downtown New Albany fixture for almost 120 years.

By 1933, Joseph and Margaret Williams had moved their business, Williams Bakery and Confectionery, into the storefront. The business, established in the late 1920s, occupied this site until the 1937 flood, after which it moved to 115 East Market Street. The photo below, from the collection of the Indiana Room of the New Albany-Floyd County Library, shows the building as Williams Bakery during the flood.

The Lewis Stores, Inc., dealers in clothing, carpets and home furnishings, moved into the building in the early 1940s. By the mid-40s, the Pearl Street store had been connected to the rear of the Wilcox Block at 133-135 East Market Street. They remained in business at the Pearl Street location for more than three decades.

In 1976, J.O. Endris Jewelers purchased the building and relocated their store here from 230 Pearl Street. Endris Jewelers was founded in 1880 and was a state-recognized Centennial Business prior to its closure in 2014.

The present owners purchased the building in 2015 and have undertaken a complete rehabilitation, including transforming the upper stories into a loft living space.
---
Driving Directions:
---
Additional Information:
Building Style:
Neoclassical
Year Built:
1914
---
Photo Gallery: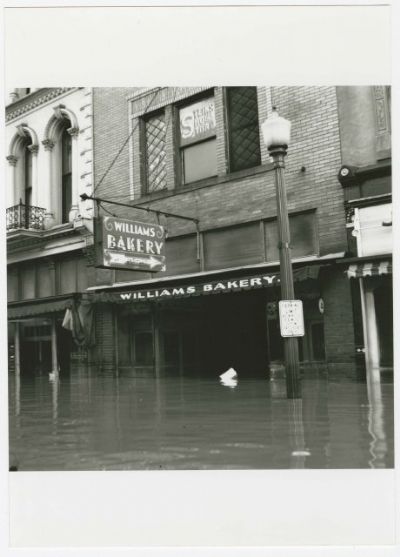 ---
Click a Photo Above for a Larger Version