---
James Collins Building
157 East Main Street
New Albany, IN 47150
---
---
Listing Description:
This structure is believed to have been built circa 1854 for attorney James Collins, by New Albany architect and master builder Isaac P. Smith. Collins had hired Smith two years earlier to build his family residence at 917 East Main. The commercial building first housed a wholesale grocery, but by 1859 James' and his brother's law offices were located here, and remained here through the mid-1860s.

John E. Noyes purchased the building in late 1865 for his boots, shoes and dry goods business. The original structure may have been expanded forward to the sidewalk during his ownership, and the Italianate-style cornice added. In 1879, Mr. Noyes lost his building to sheriff sale.

After numerous occupants including a grocery, drugstore, tobacco shop, and several confectioneries, G. Frederick and Carl Best purchased the property in 1892. Frederick ran a saloon and Carl, a pioneer tobacco manufacturer, manufactured cigars here through 1924. There was also a moving picture show operating here in 1907. A newspaper article describes a fire in December 1907, stating that the building was gutted and Charles Cook, the operator, lost equipment worth $700. Carl Best's second-floor cigar factory also sustained significant damage.

Grocery stores, restaurants, TV sales and repair, a beauty shop, and a mail service company occupied the building through 1985, when it was purchased and extensively rehabilitated as law offices.

A portion of the building is visible at the far right in the postcard below, taken for the city's centennial celebration in 1913.
---
Driving Directions:
---
Additional Information:
Building Style:
Federal/Italianate
Year Built:
1866
---
Photo Gallery: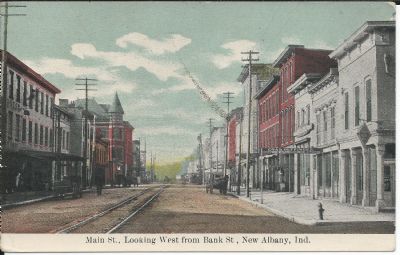 ---
Click a Photo Above for a Larger Version