---
John H. Stotsenburg House
1407 East Main Street
New Albany, IN 47150
---
---
Listing Description:
Local attorney and judge John H. Stotsenburg purchased this lot for $1000 in July of 1867 and the frame, Italianate-style home was built shortly thereafter. The structure was actually constructed in Chicago, except for the sills, and transported to New Albany for assembly. Judge Stotsenburg and his wife Jennie had been married in her hometown of Constableville, New York in December 1857, and moved to New Albany soon after. The couple raised four children in the house including Col. John M. Stotsenburg, who was a soldier in the regular army and was killed while leading his regiment in a charge in the Philippines. John H. was a partner in the law firm of Stotsenburg & Brown and later practiced with his son, Evan.

Evan made his home here until his marriage to Zenobia Borden of Washington, Arkansas in 1892. The couple had a new home built on prestigious Cedar Bough Place, a private street in New Albany. They only lived there a few years, however, before returning to the East Main Street residence in February 1897. Evan's law firm of Stotsenburg & Weathers would eventually employ up-and-coming young attorney Sherman Minton in the early 1920s, who went on to become a Supreme Court Justice.

Mrs. John H. Stotsenburg died suddenly in December of 1901 while on a trip to Washington, D.C. to visit her sister and daughter-in-law. Judge Stotsenburg died in the house in June of 1909 at the age of 78 years.

Evan would become the State's Attorney General, member of the Indiana Senate and House of Representatives, and in later years, the Indiana State Highway Commissioner. He died in August of 1937 and his widow remained in the house until the early 1940s when she moved to Sunset Drive in the fashionable Silver Hills neighborhood of New Albany. The home was then divided into apartments and remained so until the Dana Kolter family purchased the structure in 1988 and returned the house to a single-family dwelling.

The photo below, from the collection of the Indiana Room of the New Albany-Floyd County Public Library, shows this home and the neighboring properties around 1920.

---
Driving Directions:
---
Additional Information:
Building Style:
Italianate
Year Built:
1867
---
Photo Gallery: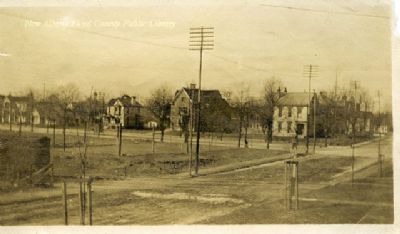 ---
Click a Photo Above for a Larger Version