---
Scott-McKiernan House
1417 East Main Street
New Albany, IN 47150
---
---
Listing Description:
David R. and Sophronia C. Scott purchased these two lots from David Cadwalder in July 1864 for $1,600, and the home was constructed immediately. As early as 1848, Mr. Scott was a chair maker for Hugh Nesbitt of New Albany. By the time of construction of the house, David was partners with John W. Brindley in the business venue of Scott & Brindley, manufactures and dealers in furniture, located on West Main Street between State and West 1st Streets in downtown New Albany.

The Scotts lived here only briefly, before selling their home to George S. McKiernan in December 1866 for $8,000. Mr. McKiernan was secretary of the newly formed Jeffersonville, Madison & Indianapolis Railroad, a product of the 1866 merger of the Indianapolis & Madison Railroad with the Jeffersonville Railroad. This railroad came to New Albany in 1866 and was owned and operated by the Pennsylvania Railroad. Both the passenger and freight stations were located south of East Main Street between State and Pearl Streets in downtown New Albany.

A large addition by prominent New Albany builders S. Day and Son was added to the east side of the structure in 1895, at a cost of $1200. The photo below shows the house sometime around the turn of the 20th century, soon after the construction of the addition; the portion with the side-gabled roof is the original.

The house remained in the McKiernan family for over a century until Joseph F. and Catherine W. Trudeau purchased the property in March 1967 from Helen Curry, a descendent of the McKiernans. Mr. and Mrs. Trudeau resided in the home until their deaths in February and December 1994.

---
Driving Directions:
---
Additional Information:
Building Style:
Greek Revival
Year Built:
1864
---
Photo Gallery: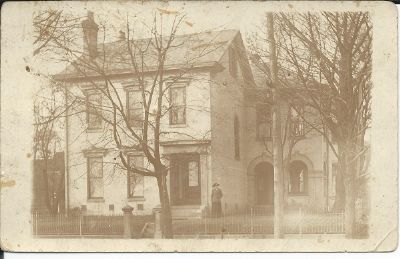 ---
Click a Photo Above for a Larger Version