---
Benjamin F. Scribner house
613 East Main Street
New Albany, IN 47150
---
---
Listing Description:
This home was built for Benjamin Franklin Scribner, son of Abner Scribner, one of New Albany's founders. Benjamin was trained as a druggist and chemist, and was in business with Dr. Edmund A. Maginess. They had their wholesale drug business at the southeast corner of State and Main streets in downtown New Albany, next door to the Scribner House.

Per the book The Scribner House of New Albany: "Benjamin was always interested in military affairs. He was one of the original members of the Spencer Greys... In May 1846, the company was accepted in the Second Regiment of Volunteers. Benjamin was enrolled as a private. By the time the company had returned from its year of service in the War with Mexico, he was discharged as a sergeant. He had participated in the Battle of Buena Vista and had shown great valor."

Scribner returned home to New Albany and married Anna Martha Maginess, the daughter of his business partner. They purchased this lot on Upper High Street in 1854, but did not build on it until 1856.

From the above book: "At the outbreak of the Civil War, Benjamin became a colonel of the Seventh Regiment of the Indiana Militia and began drilling his men. On August 22, 1861, he raised a volunteer regiment at New Albany that became known as the Thirty Eighth Indiana Volunteer Infantry. On September 21, 1861, the regiment joined General Rousseau, who was ordered to move on Muldraugh's Hill and Elizabethtown, Kentucky in order to intercept General Buckner, said to be moving on Louisville. The Thirty-Eighth Infantry was constantly occupied and engaged, and in the summer of 1862, Benjamin was put in command of a brigade that he led in the battles of Perryville and Stones River."

In 1864, Benjamin returned home to his family and drugstore business. He was later appointed to numerous offices and commissions, including the U.S. commissioner in Alaska. He wrote several books about his military career, including How Soldiers Were Made, an authoritative history of the Thirty Eighth Regiment.

By 1884, the Scribners had moved to 1119 East Main Street. Col. Scribner died in 1900 and is buried in Fairview Cemetery.
---
Driving Directions:
---
Additional Information:
Building Style:
Federal
Year Built:
1856
---
Photo Gallery: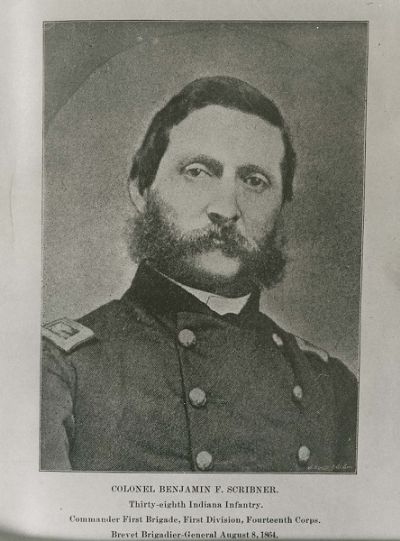 ---
Click a Photo Above for a Larger Version