---
Sloan-Bicknell-Paris House
600 East Main Street
New Albany, IN 47150
---
---
Listing Description:
This commanding home was built in 1854 for Dr. John Sloan, and also contained his office; the side door on 6th Street entered into his office, in the northwest corner of the house. After Dr. Sloan's death, his daughter Ann and her husband, Rear Admiral George A. Bicknell, occupied the home until their deaths (Ann passed away last, in the late 1920s).

By 1937, Judge John Paris and his family moved into the house, and the family remained here until 1996. The photo below from the collection of the Indiana Room of the New Albany-Floyd County Library shows the home during the Paris's ownership, circa 1945. The last Paris to occupy the house was Miss Lucille Paris, who served as Dean of Girls at New Albany High School. An octagonal cupola - reportedly added so Admiral Bicknell could watch boats on the river - and convex, Italian-made window panes are among the distinctive architectural features.
---
Driving Directions:
---
Additional Information:
Building Style:
Italianate
Year Built:
1854
---
Photo Gallery: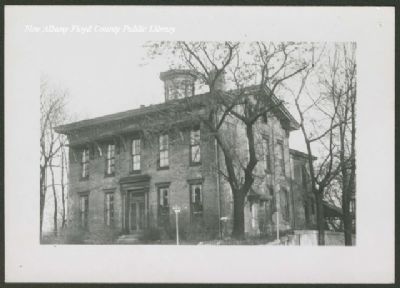 ---
Click a Photo Above for a Larger Version