---
Shipman-McCord Mansion
1206 East Main Street
New Albany, IN 47150
---
---
Listing Description:
This elegant home was built in 1866 for William C. Shipman, proprietor of the Phoenix Foundry, one of the many shipbuilding suppliers in New Albany. The architect and builders of the structure were likely William and James Banes, builders of many fine Upper High Street residences of the time, including the Culbertson Mansion. The home at 1208 East Main was once part of this property, reportedly constructed as a children's playhouse.

In February 1868, Mr. Shipman sold his splendid mansion to Robert G. McCord for $19,000.00. Mr. McCord had originally been partners with William S. Culbertson in a wholesale dry goods business on Pearl Street in downtown New Albany. He would later partner with Lawrence Bradley in the same type of business. By far Robert's largest business venture was the establishment of a woolen mill in 1866 with partners Washington C. DePauw, Lawrence Bradley and James M. Haines on Vincennes Street in the uptown area of New Albany. By September 1869, the operation was consolidated with J. F. Gebhart's New Albany Woolen Mills, making the McCord and Bradley Woolen Mills the largest establishment of its kind in the West.

In April 1868, Mr. McCord had an addition completed to his residence at a cost of $5,000.00. It was "finished up in style and in every respect carries out the original design," quoted the New Albany Daily Ledger. This area would have been the breakfast room and servant's wing of the house. The McCord family resided in the home until World War II, when it was made into government apartments. The head-on photo below, from the collection of the Indiana Room at the New Albany-Floyd County library, shows the house circa 1940.

The brick exterior of the Shipman-McCord House features a mix of the Gothic Revival and Italianate styles: in fact, it was featured in A Field Guide to American Houses as a representation of how those styles could be combined.

---
Driving Directions:
---
Additional Information:
Building Style:
Italiante/Gothic Revival
Year Built:
1866
---
Photo Gallery: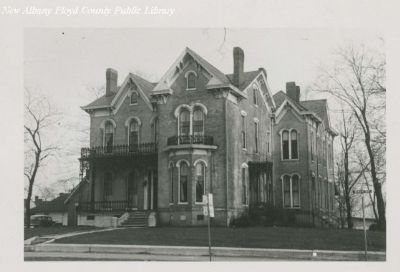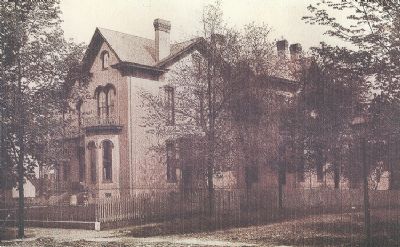 ---
Click a Photo Above for a Larger Version