Hauss-Johnson House
315 East 14th Street
New Albany, IN 47150
---
---
Listing Description:
This home was built c. 1890 and - like its neighbor to the south - probably was another house owned by Dr. Augustus Hauss and used for investment purposes. There were numerous tenants over the years including; W. Davis, M. Byers, C. Young and Courtney & Oweenee Rein. The Rein family located here around 1938 and remained until the death of Mr. Rein in March 1961 at the age of 58 years. Before his passing, Courtney had been a bookkeeper at the M. Fine Shirt Co., located at East 15th and Main Streets.

After Mrs. Rein moved from the house, Forrest "Bud" and Elizabeth Johnson made their home here. Bud was a plasterer by trade and died at the age of 60 years in July 1985. Mrs. Johnson would remain until her death in June 2009.

Again like its neighbor, this house was rehabilitated as part of the Neighborhood Stabilization Program's 'Midtown Renaissance.' The photo below shows the house just prior to that work.

---
Driving Directions:
---
Additional Information:
Building Style:
gabled ell/shotgun
Year Built:
c.1890
---
Photo Gallery: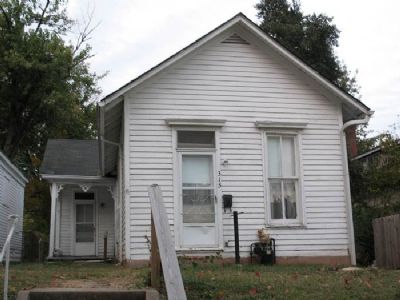 ---
Click a Photo Above for a Larger Version