Wells-Hawes House
1118 East Elm Street
New Albany, IN 47150
---
---
Listing Description:
On January 3, 1903, Wilton I. Wells purchased this house for $2,000 from Harriet A. LaFollette, widow of Judge David W. LaFollette. It appears that Mrs. LaFollette had purchased the new house from Anna Newbanks and her husband in July of 1888. It is doubtful that either family ever lived in the home since there is no listing for either at that address in the New Albany City Directories of the time. Mr. Wells was the manager of F. W. Woolworth Company, then located in the 200 block of Pearl Street, next to the White House Department Store. Wilton sold the house to Edna Irene Hawes in May of 1926.

Miss Irene Hawes along with her mother, Martha E., began a long tenure of residency in the home. Mrs. Hawes was the widow of Eden C. Hawes and a member of the 1875 "calico graduating class" of the old Female High School, now part of New Albany High School. She was credited with convincing and promoting the plan for all girls of the class to wear calico dresses at the commencement exercises to denote "hard times." In later years she traditionally entertained other members of the "Calico Club" on the anniversary of the high school commencement. Martha died on September 1, 1940 at the age of 85. Miss Irene was the secretary for the superintendent of the New Albany public schools for many years. She remained in the house until her death in June of 1971. The photo below shows the house as it appeared in 1973.

---
Driving Directions:
---
Additional Information:
Building Style:
Queen Anne cottage
Year Built:
c.1885
---
Photo Gallery: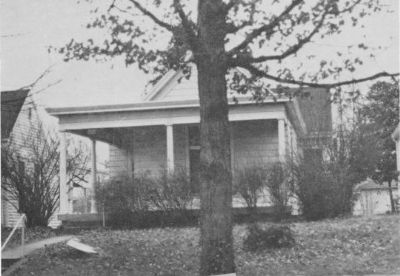 ---
Click a Photo Above for a Larger Version