Victor Pepin House
1003 East Main Street
New Albany, IN 47150
---
---
Listing Description:
Prominent New Albany citizen Victor A. Pepin, purchased the lot for $2,000.00 in 1851, and had this house built the same year. The home – in the Italianate Tuscan Villa style – is based on a pattern-book design by noted Philadelphia architect Samuel Sloan. Mr. Pepin was the cashier of the New Albany branch of the State Bank of Indiana located at Bank and Main Streets in downtown New Albany. The Pepins only lived in the house for four years before selling it to Sebre and Eleanor Howard for $25,000.00. This price included an additional 50 foot lot on 10th Street.

Mr. and Mrs. Howard eventually lost the house six years later to a bank foreclosure. In September 1863, John P. Cromie bought the structure for $7,500.00. Mr. Cromie was a coal and lake ice dealer in New Albany. He died in December 1884 and the August Barth purchased the home a year later for $10,000.00. This began a tenure of 65 years of the Barth family living here.

Mr. Barth was the proprietor of the August Barth Tannery, located at East 10th and Water Streets, just one block south of his house. He died in February 1902, but the tannery remained in existence until about 1985. Hugh A. Barth, the last family member to live in the house, died in February 1950 and the home was then sold to the Turley family in the early 1950s.

The house became the Turley Nursing Home from the mid 1950s through the late 1960s, operated by Mrs. Anna C. Turley. The property was later rented to Mary A. Muir as an antique shop, restaurant and residence. It has recently undergone an extensive rehabilitation for use as a meeting and event venue.

---
Driving Directions:
---
Additional Information:
Building Style:
Italian Tuscan Villa
Year Built:
1851
---
Photo Gallery: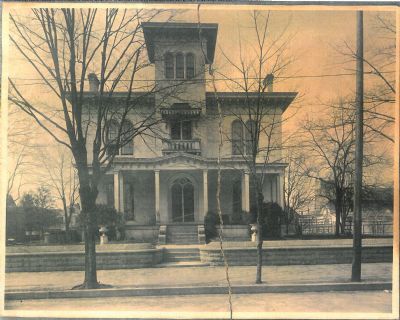 ---
Click a Photo Above for a Larger Version