---
St. Paul's Episcopal Church
1040 East Market Street
New Albany, IN 47150
---
---
Listing Description:
On July 19, 1834, a small group of people met in the State Street home of Lathrop Elderkin to establish St. Paul's Episcopal Parish in New Albany - the first Episcopal parish in the state of Indiana. St. Paul's members met in homes until the first church building was erected in 1839 on Spring Street, in the present location of St. Mark's United Church of Christ. That building, which cost $3000 to construct, was described at the time as "a neat little temple of God, of the light Grecian Doric order, with a square tower."

The congregation remained in that site until selling the property to the German Lutherans in 1863. The church building itself was purchased by Washington C. DePauw and moved to Vincennes and Beeler streets, where it was used by the Methodist Church for mission purposes. St. Paul's congregation then purchased a lot on north side of Main Street near East 6th Street and constructed a new, frame church building in 1865.

The present church lot was purchased from the Silas C. Day estate in 1890, but the building was not completed until six years later, due to the Panic of 1893. The cornerstone was laid October 21, 1895, and the building - designed by McDonald and Brothers of Louisville - hosted its first service on September 20, 1896. The sanctuary represents a Victorian interpretation of the Gothic style. The Schantz pipe organ was installed in 1964.
---
Driving Directions:
---
Additional Information:
Building Style:
Gothic Revival
Year Built:
1895-96
---
Photo Gallery: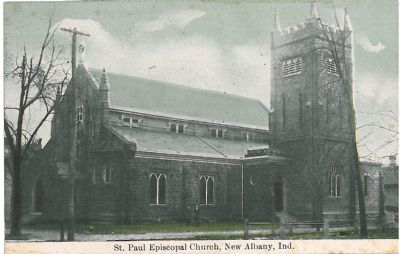 ---
Click a Photo Above for a Larger Version